Compulsory cremation of Covid-19 dead bodies of Muslims: Science, human decency and racism

Contingencies and the human response to them are also a test of fundamental values of humanity Thus, dangerously and disturbingly a good deal of Islamophobia is being made into the mainstream This general sense of backwardness is amplified when the saner voices of professors, specialist doctors and other professionals fail to speak up   When your country is doing something totally different from  what the rest of the world does, literally in exact opposition to the common sense practised and adopted by 194 countries in the world,  things aren't just right.
That is what the government should reckon of its flawed policy of compulsory cremation of dead bodies of Muslims. According to the religious belief of Muslims, the burning of the dead is tantamount to desecration. And the rest of the...

Read More...

Why Sri Lanka jailed a Muslim lawyer without charge for 6 months

                                  The Geneva-based International Commission of Jurists, the EU and UN Human Rights Core Group on Sri Lanka have expressed their concerns on the arbitrary arrest and detention of Hizbullah [Photo courtesy: Family]

Why Sri Lanka jailed a Muslim lawyer without charge for 6 months

Rights groups and members of civil society have raised concerns over the continued incarceration of a Muslim lawyer in Sri Lanka, adding that his prolonged detention "had a chilling effect on anyone involved in peaceful dissent and advocacy".

Hejaaz Hizbullah, a prominent human rights lawyer, was arrested on "terrorism" charges in April and has remained in detention...

Read More...

Hejaaz Hizbullah case: CID misled public and Cardinal, says Counsel

When the case of the arrest of Hejaaz Hizbullah was taken up yesterday, the Counsel alleged that the Criminal Investigations Department had misled the Cardinal and the public with regard to Hizbullah.

"They lied to His Eminence the Cardinal and the public. The real culprits were never caught and they have instead found a scapegoat in Hejaaz," the Counsel said.

The CID submitting a report said that they were awaiting a Government Analyst report on three phones used by Hizbullah.

"This is how they lied throughout. They said the investigations were to be completed and a Deputy Solicitor General of the Attorney General's Department said it would be by 16 September. The CID lied to the Attorney General's Department as well and is now seeking further time."

The CID said that transactions of...

Read More...

Sri Lanka has locked up this Muslim lawyer without charge for nearly five months

The prominent Sri Lankan Muslim lawyer, Hejaaz Hizbullah, is being described by human rights groups as the latest victim of Sri Lanka's draconian Prevention of Terrorism Act.

On April 14, Hizbullah, 40, got a call from the Ministry of Health saying they were worried he may have contracted COVID-19 and advised him to remain at home.

A day earlier he and others had written to the Sri Lankan president about his government's decision to ban Muslims from burying their dead, forcing them to cremate their remains instead – a violation of their right to freedom of religion, as protected by Sri Lanka's constitution and its international obligations.

Hejaaz Hizbullah was a lawyer at the Supreme Court and worked as a state counsel for the Attorney General's department. Beyond his legal work, he was involved...

Read More...

Hejaaz Detention: Fort Magistrate Orders CID To Submit All Statements Obtained In Investigations



Following submissions by Defence Counsel that the Criminal Investigations Department is selectively reporting facts to the Magistrate in order to malign Hejaaz Hizbullah, Fort Magistrate today ordered the Criminal Investigations Department to submit a report of all statements obtained by them from persons relating to the investigations of Hizbullah.
When the case was taken up today. Counsel for the Defence informed Court that the Criminal Investigations Department had obtained statements from all persons of the Save the Pearls Charity and the Teachers and Board of Management of the Al-Zuhriya Madarasa.

However, none of those statements had been produced to date.
They said that the statements would reveal that all the allegations made by the CID are a fabrication and were made in order to malign Hizbullah and...

Read More...

Hejaaz Hizbullah: Symptom and symbol

What made him more enigmatic was that unlike most others in his profession who shield their lives beneath a calm facade, he taught exceptionally well Apparently he called the Easter attackers "fools who died as fools." I can picture Hejaaz saying that   There's an image of Hejaaz Hizbullah I return to over and over again. It's an image of him holding a placard at a protest in 2018. The placard reads, "Asilachaara parliamenthuwak wenuwata seelachara parliamenthuwak" ("A cultured parliament in place of an uncultured parliament"). The reason why it resonates with me is that, even in the ecstatic way he holds it, he is quite unlike the Hejaaz Hizbullah I once knew. But then I realise that the Hejaaz I once knew couldn't have been the real guy. 
I first encountered the man in 2013 at my law school. He didn't...

Read More...
Media captionJacinda Ardern: "This can only be described as a terrorist attack"
Forty people have been killed and more than 20 wounded in shootings at two mosques in Christchurch, New Zealand.
Australian prime minister Scott Morrison described the gunman, who had Australian citizenship, as an "extremist, right-wing" terrorist.
Four people - three men and one woman - were in custody in connection with the shooting, New Zealand police said.
New Zealand prime minister Jacinda Ardern called it one of New Zealand's darkest days".
What do we know at this point?
New Zealand police commissioner Mike Bush confirmed that "multiple fatalities" were recorded at two locations.
The first report of an attack came from the Al Noor mosque, located in central Christchurch. Witnesses told local media they ran for their lives, and saw people bleeding on the ground outside the building.
A second mosque in the suburb of Linwood was evacuated, but there were few details from that site.
Police also defused "a number of IEDs (explosive devices) attached to vehicles", Mr Bush said.
Authorities advised all mosques in the city to shut down until further notice. Armed police were also seen at Papanui High School in Christchurch, which was cordoned off.
It was not immediately clear how many gunmen there were. The Australian suspect is believed to have published a manifesto outlining his intentions, in which he espoused far right and anti-immigrant ideology.
He also appeared to have livestreamed on Facebook from a head-mounted camera as he shot victims in a mosque. Police called on the public not to share the "extremely distressing" footage online.
Facebook said it had removed the shooter's Facebook and Instagram accounts and was working to remove any copies of the footage.
What happened at the mosques?
The sequence of events remains unclear and has mostly come via eyewitness reports to local media.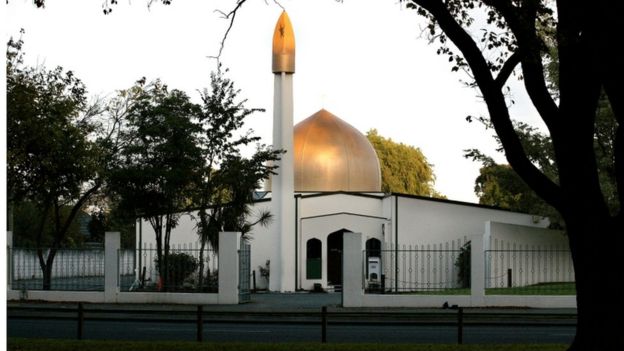 Image copyrightREUTERSImage captionThe Al Noor mosque in Christchurch, New Zealand - location of one of the shootings
One unnamed survivor told TV New Zealand he was at the Al Noor mosque, and saw a gunman shoot a man directly in the chest. The attacker reportedly targeted the men's prayer room in the mosque, then moved to the women's room.
"What I did was basically just waiting and praying, God please, let this guy run out of bullets," the witness said. "He came to this side, he shot this side, he went to another room and went to the ladies' section and shot them. I just heard one of the ladies has died."
A Palestinian man who asked not to be named told the AFP news agency he heard rapid gunfire and saw a man shot in the head.
"I heard three quick shots, then after about 10 seconds it started again - it must have been an automatic, no one could pull a trigger that quick," he said. "Then people started running out. Some were covered in blood."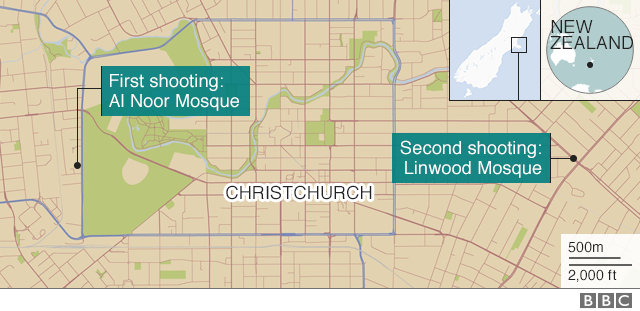 A second mosque in the suburb of Linwood was also evacuated. The police commissioner said "multiple fatalities" were recorded at two locations.
How have authorities responded?
Multiple casualties were brought to Christchurch Hospital where there was a heavy police presence. A spokeswoman said Canterbury District Health Board (CDHB) had activated its mass casualty plan, the New Zealand news site Stuff.co.nz reported.
Police earlier cleared Cathedral Square, where thousands of children had been holding a rally for action on climate change.
Police Commissioner Bush said: "Police are responding with its full capability to manage the situation, but the risk environment remains extremely high. Police recommend that residents across Christchurch remain off the streets and indoors until further notice."
A lockdown on all schools in Christchurch was lifted, and parents told could collect their children.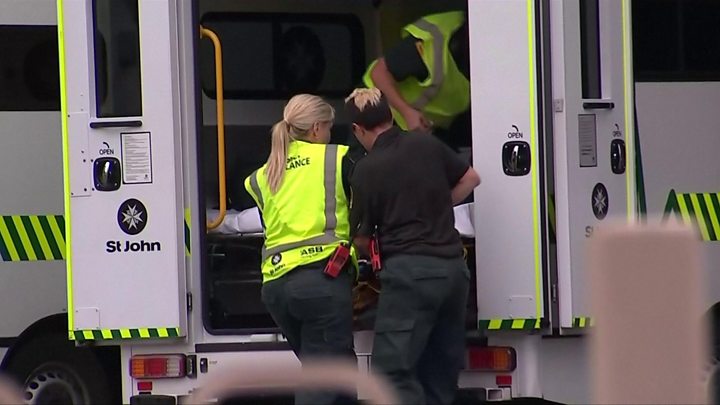 Media captionPeople injured in the shooting have been arriving in ambulances at a hospital in Christchurch
Australia's Prime Minister Scott Morrison tweeted: "I'm horrified by the reports I'm following of the serious shooting in Christchurch, New Zealand. The situation is still unfolding but our thoughts and prayers are with our Kiwi cousins."
Cricket team escape attack
The Bangladesh national cricket team appeared to have narrowly escaped the shooting. A reporter following the team, which was due to play New Zealand in a now-cancelled test match on Saturday, tweeted that the team had "escaped from a mosque near Hagley Park where there were active shooters".
Player Tamim Iqbal tweeted that the "entire team got saved from active shooters".
Bangladesh Cricket Board spokesman Jalal Yunus said most of the team had gone to mosque by bus and were about to go inside when the incident took place.
"They are safe. But they are mentally shocked. We have asked the team to stay confined in the hotel," he told the AFP news agency.
https://www.bbc.com/news/world-asia-47578798