Voters List Details For 2019 Government Schools Grade One Admission

Read More...

This could be your last Ramadaan

REMEMBER the beginning of Ramadan last year: the festive supermarkets with their jampacked aisles, the makeshift roadside stalls outside restaurants selling crisp sambusas and subiya, the sounds of Adhan emanating from Masajid... My house overlooked a Maghsalat-Al-Amwaat Al-Khairiyyah (a charitable organization which prepares bodies for burial in the Islamic manner), and as I walked home from the neighborhood supermarket laden with packages of food and other essentials in preparation of the next day's fast, I caught sight of a family accompanying a bier in a hearse. The women huddled together, sobbing quietly, while the men stood at a distance in somber silence. It struck me: While I was going home to the comfort of my home and the company of my family, this person was being dispatched alone, to answer the stern questioning of the grave....

Read More...

Facebook staff to learn Sinhala insults after Sri Lanka riots

Three months after Sri Lanka was rocked by deadly anti-Muslim riots fuelled by online vitriol, Facebook is training its staff to identify inflammatory content in the country's local languages. The social network has been seeking penance in Sri Lanka after authorities blocked Facebook in March as incendiary posts by Buddhist hardliners fanned religious violence that left three people dead and reduced hundreds of mosques, homes and businesses to ashes. Until the week-long ban, appeals to Facebook to act against the contagion of hate speech had been met with deafening silence, at a time when the California-based tech giant was reeling from unprecedented global scrutiny over fake news and user privacy. "We did make mistakes and we were slow," Facebook spokeswoman Amrit Ahuja told AFP in Colombo. The dearth of staff fluent in Sinhala...

Read More...

Time-tested bond of Sinhala-Muslim Friendship

The Muslims of Sri Lanka, since ancient times have been in peaceful coexistence with the other communities of the Island and has proved to be an integral and inseparable component of the Sri Lankan society.



According to ancient chronicles, traders from countries like Rome, Greece, Persia( Iran ), China, India etc visited Sri Lanka on trade missions. Arab merchants having maintained friendly relationship with natives, had ventured into the interior and coastal areas of Ceylon for trading, even before the advent of Islam. Arabs were only interested in trading and commerce in Sri Lanka in an honest and a just manner The present day Muslims of Sri Lanka, could therefore be considered the descendants of many of these Arabs, Persians, Indians, and Malays etc.  

During...

Read More...

'වඳභාවය ඇති කළ හැකි පෙත්තක් මෙතෙක් සොයාගෙන නැහැ'


(ශාන්ත රත්නායක)

බටහිර වෛද්‍ය ක්‍රමය අනුව වඳභාවය ඇති කළ හැකි පෙත්තක් සොයා ගෙන නැති බව ප්‍රජනන වෛද්‍ය විද්‍යාව පිළිබඳ මහාචාර්ය චන්දිකා විජේරත්න මහත්මිය අද (15) ශ්‍රී ලංකා වෛද්‍ය සංගමයේ මාධ්‍ය හමුවක දී පැවසීය.

ආහාර සමඟ වඳ පෙති මිශ්‍ර කිරීමෙන් වඳභාවය ඇති කළ හැකි බවට අනියත බියක් සමාජ වෙබ් අඩවිවල ඇතිව තිබෙන හෙයින් ඒ ගැන...

Read More...

ආණමඩුව හෝටලයට ගිනි තැබු 7 දෙනා රිමාන්ඩ්

ජුඩ් සමන්ත

ආණමඩුව නගරයේ පිහිටි  මදීනා හෝටලයට පෙට්‍රල් බෝම්බ තබා ගිනි තැබීමේ සිද්ධියට සම්බන්ධ සැකකරුවන් 7 දෙනා මෙම මස 19 වැනි දා දක්වා රිමාන්ඩ් කිරිමට ආණමඩුව වැඩබලන මහේස්ත්‍රාත් සුනිල් ජයවර්ධන මහතා අද (13) නියෝග කළේය.

මෙලෙස රිමාන්ඩ් ගත කරන ලද්දේ ආණමඩුව සහ ඒ අවට පදිංචිව සිටි තරුණයින් 7 දෙනෙක් වේ. ඔවුන් වයස අවුරුදු 18 - 22 වියේ...

Read More...

මහසෝන් බලකා කාර්යාලයෙන් ප්‍රචණ්ඩත්වයේ වැලගිය මුලගිය තැන් හමුවෙයි

මහනුවර ප‍්‍රදේශයේ ඉකුත් මාර්තු 4 වැනි දා සිට  මේ දක්වා සිදු වු සියලූ ප‍්‍රචන්ඩ  කි‍්‍රයාවන්ට මුලිකව කි‍්‍රයා කළ  බව කියන සිද්ධිය සම්බන්ධයෙන් අත්අඩංගුවට ගෙන රැඳවුම් නියෝග මත සිටින මහසොන් බළකායේ  ප‍්‍රධානී බව කියන විදානපතිරණයේ අමිත් ජීවන් වීරසිංහ නැමැති සැකකරුට අයත් මහනුවර නත්තරංපොත කුණ්ඩසාලේ පිහිටි කාර්යාලය අද (13) සෝදිසියට...

Read More...

UN condemns anti-Muslim attacks in Sri Lanka

2018-03-12 11:10:35 4 2109 The UN's political chief on Sunday condemned anti-Muslim violence that has targeted mosques and businesses in Sri Lanka as he wrapped up a three-day visit to Sri Lanka. Under-Secretary-General for Political Affairs Jeffrey Feltman urged the government to bring the perpetrators of the violence and hate speech to justice. Feltman, who met with Muslim leaders to show solidarity during his visit, "condemned the breakdown in law and order and the attacks against Muslims and their property," a UN statement said. Sri Lanka has been rocked by a week of violent riots by Sinhalese mobs who have attacked 11 mosques and at least 200 Muslim-owned businesses, prompting the government to declare a state of emergency. Three people have been killed and 20 wounded in the anti-Muslim attacks. On Sunday a Muslim-owned...

Read More...
The Fascist Danger Of BBS Gnanasara
By Laksiri Fernando –
Dr. Laksiri Fernando
The failure so far to curtail the extremist Bodu Bala Sena (BBS) activities against the Muslim community is a major black mark on the Yahapalana government as it promised to bring peace and reconciliation to the country. It is understood that people's racial attitudes, hatred or prejudices cannot easily be eliminated just because of a governmental change after an election. However, it is the bounden duty of any government to curtail open extremist activities, spreading hate and incitement against communities. This is more so in the case of a government elected on the promise of good governance, rule of law and justice to all communities and particularly to the vulnerable minorities.
Preaching of Hate
What Galagoda Aththe Gnanasara has demonstrated at the Satyagraha meeting at Mahiyangana on the 21st of this month is not simply expressing his views. It does not cover under the freedom of expression. It is a clear incitement against the Muslim community and a challenge to the rule of law and the law enforcement authorities. He should have been already arrested and brought before the law of the country.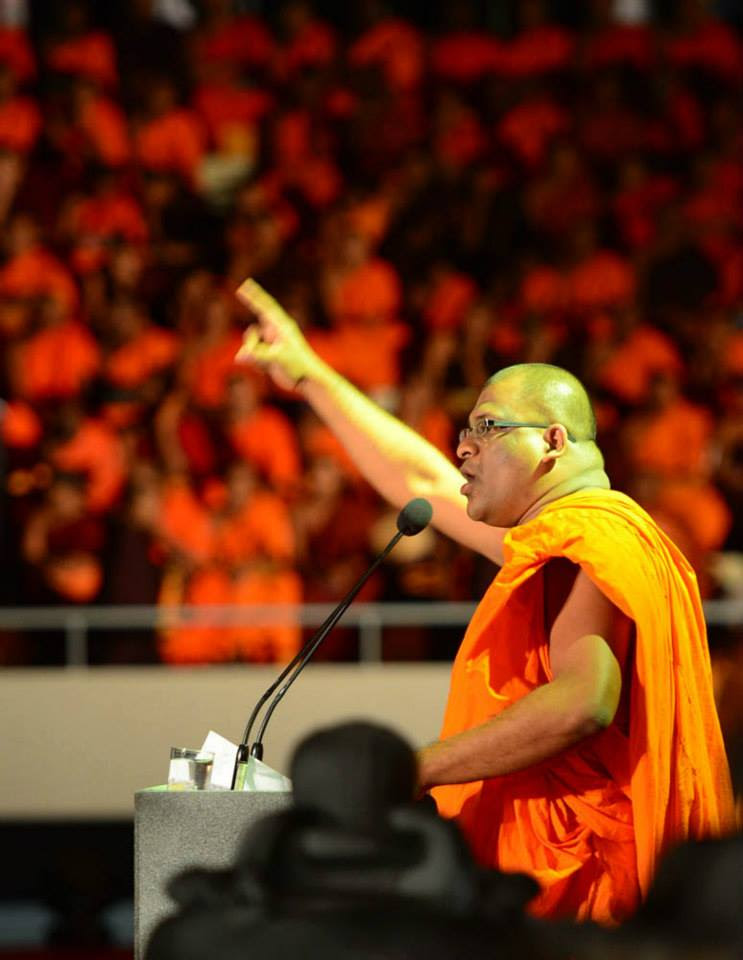 Gnanasara – Photo courtesy Foreign Correspondents' Association of Sri Lanka Facebook page
His hate against the Muslim community in this instance is very clear. It has been clear even before and throughout his 'political career.' He is simply not a proper Buddhist monk in my opinion but a political activist with extremist views and intensions bordering on a fascist ideology and intent.
Gnanasara is always an emotionally charged person often with the use of filthy language. These are clear signs of a fascist lineage. It is typical of a fascist propagandist to lie, distort or make a mountain out of a molehill. He has said "First they threw rotten eggs at our teachers in Madawala, and then they tried to build a mosque which was taller than the height of the Dalada Maligawa." Who has given him the sole authority to speak on behalf of the Sinhala people or the Buddhists? Even if he has genuine concerns about the said incidents (which I doubt/dispute), threatening the Muslim community in general is not the way to resolve a dispute. The foremost place for Buddhism cannot be the height of the Dalada Maligawa!
Promotion of Incitement
Most alarming is his threat to enact the 'phase two of Aluthgama.' This is where his violent and fascist intent is very clear. After referring to possible 'intelligence officers' listening to his speech he said, "go and tell the authorities that if they don't give a solution to what we demand, we will launch the phase two of Aluthgama." The demand he placed was to release the two young persons in remand who had apparently intimidated the Muslim businesses in the area to close down their shops during a protest. The said protest had apparently organized because of the 'pulling down of a Buddhist flag' by a Muslim youth which should also be condemned and consider provocative. However, this is not a recent incident but more of a pretext.
In his speech, he not only attacked the Muslims but also the Tamils. In his speech, he didn't fail to recall the 'proverbial mother'! If anyone has concerns about the people in custody, the right place to go is the courts and not the market place. He has always opted to disregard the laws and law enforcement authorities in the country. In addition to fascism, he also demonstrates a complex strand of anarchism. He cannot simply be considered as a proper Buddhist monk.
His most alarming threat of violence was against the police. Referring to the IGP, he said, "If you can't handle them, tell us, we will take care of them. We only need about 50 people to take care of them, and we are not scared to go behind bars." He was referring to the Mahiyangana police as 'them' and clearly threatening mob violence as he admitted it would place them behind bars. However, such a threat is sufficient enough to arrest him as a precaution and charge him against incitement.
Why Not to Condemn All Monks
Gnanasara's outburst, violence or fascism should not be a reason to condemn all Buddhist monks. He is in saffron robes, but he is not a proper Buddhist monk in my opinion. What is alarming however is he is flanked by several other 'Buddhist monks,' with or without knowing the gravity of what they do or utter. This is a matter to be untangled preferably within the Buddhist Sangha themselves. It is also apparent that Gnanasara is exploiting business enmities between different communities to promote his fascist cause and in this case at Mahiyangana.
It is not unusual for the clergy of different religions or denominations to get involved in politics, extremist movements or even fascism. However, this cannot be considered 'healthy for religion or for politics.' Particularly in Hungary during the rise of Fascism in 1930s, there were numerous Catholic priests who went behind Szalasi's movement. Ference Szalasi was the leader of the Arrow Cross Party which was responsible for the killing and mayhem of thousands of Jews. This is just an example.
This is also the case today of many Imams and other Islamic religious leaders supporting the Islamic State of Iraq and Syria (ISIS). However, there are many other Imam's and leaders condemning or distancing themselves from ISIS. Sri Lanka is fortunate to have moderate or 'Abangan' Islamic believers and the government or the public should be mindful of not to push the youngsters to the extremes like in some Western countries which could create a virtual hell as a result of these religious polarizations. That is one reason why lawful action should be taken forthwith against Gnanasara and his gang.
Cambodian Example
In the case of curtailing Buddhist monks going for politics or for extremist politics, there were prohibitions in the Cambodian constitution before 1975 forbidding Buddhist monks even in voting. I think it was influenced by the views of Prince Norodom Sihanouk of that time. However this position changed after the UN inspired new constitution in 1993 without any prohibition. Yet until 2006, the Buddhist Supreme Patriarchs (very much similar to our Sanga Nayakas) banned the Buddhist monks voting or even registering for voting, believing that the 'monks should not be biased.'
However, in recent times this has changed again. A good number of Buddhist monks are now involved in various social causes like human rights and peace. However, there are no organizations such as the BBS or the 969 Movement of Ashin Wirathu in Mynamar (Burma). This is despite the presence of numerous Cham Muslims or minority Vietnamese in Cambodia. Still the Cambodian Buddhist Supreme Patriarchs hold the moral authority to refrain their respective member monks getting involved in extremist politics or unacceptable ventures contrary to the Buddhist principles. This is part of the Sangha Vinaya (discipline) fairly maintained in Cambodia.
I am not at all advocating a constitutional prohibition of Buddhist monks or other priests getting involved in politics like in pre-1975 Cambodia. However, there should be some constraints within all religions or religious denominations of their clergy men or women getting involved in politics or extremist politics. The case of Gnanasara however is different. He is obviously a potential fascist, who can derail all the good intentions of reconciliation and peace in the country. He is apparently a law breaker and inciter who should be brought before the law.
A Postscript
After finishing the above short peace, I had the occasion to watch an interview of Khaled Abol Naga, the prominent Egyptian actor, producer and the film director over the ABC 24 TV (Australia) this afternoon. When he was asked what he thinks about the reasons for many young people going for the cause of ISIS, he said that "when you leave a small injustice unaddressed, the grievances become accumulated. That is what happened after the creation of Israel neglecting the Palestinians and others."
"The ISIS however is not the solution but the exacerbation of the problem," he emphasized. The reason he gave was very common to Buddhism, Christianity or Islam: "hatred begets hatred" (Wairayen Wairaya Nosan Sinde). This is why the rule of law should be administered, for Gnanasara or any other perpetrators, without any hatred or vengeance.