Wednesday, 03 December 2014 17:26
16 Qualities That ALLAH Loves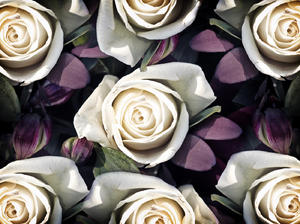 1) Patience:
"And Allah loves as-Sâbirun (the patient)." (Surah Imran 3:146)
2) Justice and Dealing with Equity:
"O ye who believe! Be steadfast witnesses for Allah in equity, and let not hatred of any people seduce you that ye deal not justly. Deal justly, that is nearer to your duty. Observe your duty to Allah. Lo! Allah is informed of what ye do." (Surah Maeda 5:8)
"For Allah loves those who are fair (and just)." [Surah Al Hujurat 49:9]
3) Putting Trust in Allah:
"Certainly, Allah loves those who put their trust (in Him)." (Surah Imran 3:159)
4) Kindness:
Ayesha (رضي الله عنها ) narrated: The Messenger of Allah ( صَلَّى اللَّهُ عَلَيْهِ وَسَلَّمَ) said: "Allah loves kindness in all matters." (Bukhari)
5) Repentance:
"Truly, Allah loves those who turn unto him in repentance." (Surah Baqarah 2:222)
6) Piety:
"Verily, then Allah loves those who are al-Muttaqun (the pious)." (Surah Imran 3:76)
"For Allah loves the righteous (the pious)." [Surah Al Tawbah 9:4]
Reported by Sa`d bin Abu Waqqas (رضي الله عنه :): Messenger of Allah ( صَلَّى اللَّهُ عَلَيْهِ وَسَلَّمَ ) said, "Allah loves a slave who is pious, free of all wants and the unnoticed.'' 

7) Good-doing:
"Truly, Allah loves Al-Muhsinun (the good-doers)." (Surah Baqarah 2:195)
8) Purification:
"And Allah loves those who make themselves clean and pure." (Surah Tawbah 9:108)
9) Humility of the Rich:
Sa'd Ibn Abi Waqqas (رضي الله عنه ) said: Allah's Messenger ( صَلَّى اللَّهُ عَلَيْهِ وَسَلَّمَ ) said: "Allah loves the believer who is pious and rich, but does not show off." (Muslim)
10) Magnanimity:
Al-Hakim narrated: The Messenger of Allah ( صَلَّى اللَّهُ عَلَيْهِ وَسَلَّمَ ) said: " Allah is All-Generous and He loves generosity in sale, purchase and judgment."
11) Virtuosity:
The Messenger of Allah ( صَلَّى اللَّهُ عَلَيْهِ وَسَلَّمَ)said: "Allah loves the believer who is poor but virtuous enough to refrain from begging though he has many children." (Muslim and Ahmed)
12) Love for the Sake of Allah:
Al-Tabarâni, Ibn Ya'lâ, Ibn Hibban and Al-Hakim narrated: Allah's Messenger
( صَلَّى اللَّهُ عَلَيْهِ وَسَلَّمَ) said: "If two individuals love each other for the sake of Allah, the stronger in love to his brother will be more loved by Allah."
13) Continuous Performance of Righteous Deeds:
Allah's Messenger ( صَلَّى اللَّهُ عَلَيْهِ وَسَلَّمَ) said: "The best loved deeds to Allah are the ones that are continuous even if they are not very many." (Bukhari and Muslim)
14) Sabr (Patience):
"And Allah Loves those who are firm and steadfast (As-Sabirin (the patient))." [Surah Ali 'Imran 3:146]
15) Praying Salaah on time:
"The thing that Allah loves most is when his people pray salaah on time." (Hadith- Bukhari)
16) Good Manners and Conduct:
Al-Tirmidhi narrated: Allah's Messenger ( صَلَّى اللَّهُ عَلَيْهِ وَسَلَّمَ) said: "The best loved by me and the nearest to me on the seats on the Day of Resurrection are those who have the best manners and conduct amongst you, who are intimate, are on good terms with others and are humble, and the most hated by me and who will be on the furthest seats from me are those who are talkative and arrogant."

Love of Allah is the basis of worship that should be directed to Him alone. Any other love should be for his sake too. The real love of Allah is to do whatever He ordained and to abandon whatever He forbade, in addition to Following Rasulullah ( صَلَّى اللَّهُ عَلَيْهِ وَسَلَّمَ)'s Sunnah. Whoever obeys someone or something other than Allah and His Messenger ( صَلَّى اللَّهُ عَلَيْهِ وَسَلَّمَ), or follows any saying other than theirs, or fears other than Allah or seeks the pleasure of other than Allah, or puts his trust in other than Him, does not love Allah, nor does he love His Messenger ( صَلَّى اللَّهُ عَلَيْهِ وَسَلَّمَ). Muslims should also love one another and wish the best for one another. Allah's Messenger ( صَلَّى اللَّهُ عَلَيْهِ وَسَلَّمَ) said: "One will not be a true believer unless he loves for his brother what be loves for himself." (Bukhari)
---
Jazakum Allah Khair,
The Qur'an Foundation.
Monday, 01 December 2014 10:26
Published on 27.11.2014 Hijiri date 03.02.1436 Reg. number ACJU/MED/004/2014
The presidential election has been declared to be held on 8th January 2015. Casting the vote during an election is not only a right but also a duty of a citizen. Therefore, ACJU strongly urges Muslims of this country to exercise this important franchise without fail.
Those who believe in Allah and turn towards him, during times of affliction, will be definitely consoled by the Almighty. Episodes of the prophets of Allah substantiate this belief. Therefore, Muslims should excessively consider in strengthening their connection with Allah, refraining from major sins and increasing good deeds. Verily our good deeds would bring prosperity to us as well as to our Motherland.
It is common in a democratic country that various political parties contending during an election. And voters have the right to vote to for whomever they prefer. The ACJU an organization which has been functioning for the past 90 years has never indulged in any political activity is a known truth to all. Therefore the All Ceylon Jamiyyathul Ulama will not act in support or against to any party. The ACJU requests not to canvas by using the name of ACJU, but the All Ceylon Jamiyyathul Ulama has met the present leaders, past leaders and also the Muslim ministers considering the rights & needs of the Muslims.
In the meantime, ACJU appeals to all Muslim politicians and leaders to give importance to the welfare of Muslims living in this country as minorities in their efforts and actions without being self-centered or corporal in their aims and urges to train their focus more on life Hereafter and to take astute decisions in crucial situations giving priority to promote peace and unity among all the communities living in this country. Moreover, we request the leaders and politicians not to curse and admonish each other and also plead, especially the Muslims not to instigate arguments and debates on political subjects unnecessarily at this volatile season and also to refrain from spreading rumors and not to trigger or involve in any extreme activities.
We also request the ACJU members to educate and guide the Muslims with regard to the above matters in their respective areas and districts of operation.
Ash-Sheikh Fazil Farook
The Secretary – Media Unit
All Ceylon Jamiyyathul Ulama
http://www.acju.lk/press-release/pre-election/