Tuesday, 05 July 2016 12:39
By Abdur Rahmaan Umar
"What! Are they crazy?" shouted Fatima, banging the knife on chopping board hard enough to scatter carrots in every direction and send the cat racing for the back door.
"What do they think? How can they possibly..." she sighed deeply, and raised the knife for another assault on the chopping board.
"Don't they realise we have so much work to do? I mean who schedules a prize giving for the night before Eid."
"But ma...that's what Moulana(Sheikh)  said today. That there definitely is a prize giving," whispered Ahmed, cowering behind a chair in case another barrage of carrots was launched.
"Which Moulana? And why don't they think!" she continued, pausing just long enough to heave another heavy sigh, "We have so much to do the night before Eid. Get the kids clothes ready, prepare the plates, layer the biryani...and...this year Eid is by us, so everyone from ninety nine kilometres around will be here. So is Moulana going to come layer the Biryani?"
"I think I must phone him. Now! He must cancel this madness," she moaned, "Prize giving before Eid! My foot!"
"And who must be there? Must we all come?"
Ahmed lifted head just a little above the chair and said "Yes, ma. He said it's for everybody. No one should be left out."
"Well I'll explain to him," said Fatima, reaching for the mobile phone, "then maybe he'll understand why some people...some people...like me just can't be there. We have work, you know?"
Fatima began banging the numbers into the phone which let out loud beep with every painful prod.
"Gee, Moulana Yusuf!" she began, "What's this about a prize giving the night before Eid? Whose crazy idea was this? Do you people know what the night of Eid is? We have so much to do?"
Without waiting for answers she continued, "I thought being a Muslim school you would think about us poor mothers who have to do EVERYTHING. I mean who decided that the school should have a prize giving the night before Eid? So whose grand idea was it?"
She sighed deeply and wiped the moisture collecting in her eye.
Moulana took advantage of the brief pause to squeeze in a word, "Sorry sister, but it wasn't my idea."
"Then who's grand idea was this! Who decided this?" she shouted. The phone nearly slipping out of her hand.
"Allah's idea," came the almost inaudible reply.
"Moulana! If I wasn't  fatsing I would have said such things that would have made your head spin in two directions. What has Allah got to do with the school timetable?" cried Fatima, her big frame collapsing into the nearest kitchen chair, accompanied by more deep sighs and a few moans.
"Sister, please listen to me," said, Moulana taking advantage of the few second of silence, "There is a prize giving and it was at the request of Allah Ta'ala."
Fatima straightened up in the chair and began to say something but Moulana continued, "As part of a lengthy Hadith in a book called Targheeb narrated by Ibn Abbas Radiallahu anhuma, the Noble Messenger Sallahu alaihi wasalam said that the night of Eidul Fitr is called Laylatul Jaa'izah – the night of prize giving. And in another Hadith narrated from Abu Hurairah Radiallahu anhu, Rasulallah Salallahu Alaihi wasalam mentioned that on the last night of Ramadaan Allah Ta'ala forgives the believers. The Companions Radiallahu Anhum enquired if that last night was Laylatul Qadr, and the Messenger replied "No, but it is only right that a servant should be given his reward on having completed his service. "
"So I explained to the children that just as they want to be honoured at the school prize giving and they work hard the whole year so they could get an award – Allah Ta'ala also rewards those servants of His who excelled during the months of Ramadaan and they are honoured with special awards for the Aghirah(Hereafter)."
Fatima's faced flushed a bright pink and she let out a soft moan, "I didn't know that"
"The night before Eid," continued Moulana Yusuf, "is a very important night and we should at least spend part of it in the worship of Allah. Despite all the other work we have, we should not lose the blessing of this night, because this is a such a night that who so ever remains awake on this night in the worship of his Lord, Allah, his heart will not die on the day when hearts will die?"
"What does that mean?" enquired Fatima now curious about this special night.
"On the day of Judgement when hearts will nearly die out of fear, this person will be free of such fear and anguish. Also, that person who remembers Allah is like a living person and the one who doesn't is like a dead person. So to emphasise – this is a very important night that we often forget because we are too busy preparing for the next day or have already started celebrating Eid."
Fatima stared at the pink slippers on her feet, "I'm sorry I shouted at you Moulana, but we just have so much pressure with Eid coming, there is so much to do. But I will have to make some time for Ibadat (worship) on this special night. But why didn't Ahmed tell me this."
Ahmed now stood boldly away from the kitchen chair, "Because, Ma.....you didn't give me chance to explain."
*****
We appreciate feedback on our articles. Please send feedback or any constructive comments to: This e-mail address is being protected from spambots. You need JavaScript enabled to view it
To subscribe to our mailing list please send a blank email to: This e-mail address is being protected from spambots. You need JavaScript enabled to view it
Tounsubscribe please click on link found below this message OR send a blank email to This e-mail address is being protected from spambots. You need JavaScript enabled to view it
For general & motivational articles on Islam visit our website: www.eislam.co.za
Find us on Twitter @eislaminfo
If you would like to contribute an article/s to our website please email it to: This e-mail address is being protected from spambots. You need JavaScript enabled to view it
This article and all others published by us have NO COPYRIGHT whatsoever. You are free to forward or publish this article in its original form. However we would appreciate it if you could acknowledge the source. www.eislam.co.za
Friday, 01 July 2016 14:56
The Fascist Danger Of BBS Gnanasara
By Laksiri Fernando –
Dr. Laksiri Fernando
The failure so far to curtail the extremist Bodu Bala Sena (BBS) activities against the Muslim community is a major black mark on the Yahapalana government as it promised to bring peace and reconciliation to the country. It is understood that people's racial attitudes, hatred or prejudices cannot easily be eliminated just because of a governmental change after an election. However, it is the bounden duty of any government to curtail open extremist activities, spreading hate and incitement against communities. This is more so in the case of a government elected on the promise of good governance, rule of law and justice to all communities and particularly to the vulnerable minorities.
Preaching of Hate
What Galagoda Aththe Gnanasara has demonstrated at the Satyagraha meeting at Mahiyangana on the 21st of this month is not simply expressing his views. It does not cover under the freedom of expression. It is a clear incitement against the Muslim community and a challenge to the rule of law and the law enforcement authorities. He should have been already arrested and brought before the law of the country.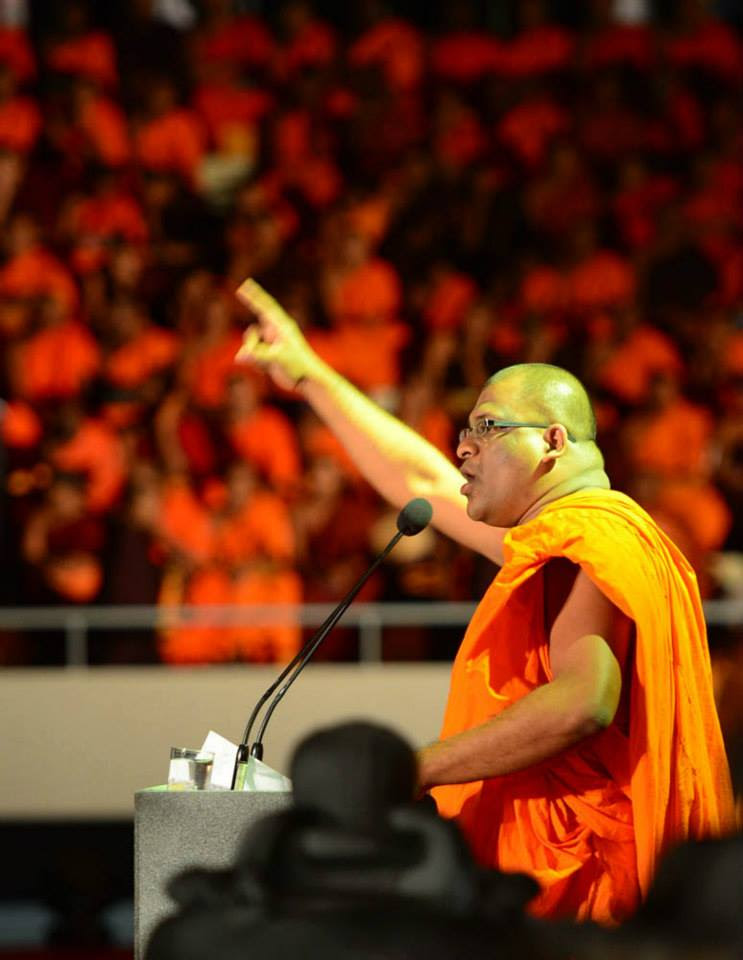 Gnanasara – Photo courtesy Foreign Correspondents' Association of Sri Lanka Facebook page
His hate against the Muslim community in this instance is very clear. It has been clear even before and throughout his 'political career.' He is simply not a proper Buddhist monk in my opinion but a political activist with extremist views and intensions bordering on a fascist ideology and intent.
Gnanasara is always an emotionally charged person often with the use of filthy language. These are clear signs of a fascist lineage. It is typical of a fascist propagandist to lie, distort or make a mountain out of a molehill. He has said "First they threw rotten eggs at our teachers in Madawala, and then they tried to build a mosque which was taller than the height of the Dalada Maligawa." Who has given him the sole authority to speak on behalf of the Sinhala people or the Buddhists? Even if he has genuine concerns about the said incidents (which I doubt/dispute), threatening the Muslim community in general is not the way to resolve a dispute. The foremost place for Buddhism cannot be the height of the Dalada Maligawa!
Promotion of Incitement
Most alarming is his threat to enact the 'phase two of Aluthgama.' This is where his violent and fascist intent is very clear. After referring to possible 'intelligence officers' listening to his speech he said, "go and tell the authorities that if they don't give a solution to what we demand, we will launch the phase two of Aluthgama." The demand he placed was to release the two young persons in remand who had apparently intimidated the Muslim businesses in the area to close down their shops during a protest. The said protest had apparently organized because of the 'pulling down of a Buddhist flag' by a Muslim youth which should also be condemned and consider provocative. However, this is not a recent incident but more of a pretext.
In his speech, he not only attacked the Muslims but also the Tamils. In his speech, he didn't fail to recall the 'proverbial mother'! If anyone has concerns about the people in custody, the right place to go is the courts and not the market place. He has always opted to disregard the laws and law enforcement authorities in the country. In addition to fascism, he also demonstrates a complex strand of anarchism. He cannot simply be considered as a proper Buddhist monk.
His most alarming threat of violence was against the police. Referring to the IGP, he said, "If you can't handle them, tell us, we will take care of them. We only need about 50 people to take care of them, and we are not scared to go behind bars." He was referring to the Mahiyangana police as 'them' and clearly threatening mob violence as he admitted it would place them behind bars. However, such a threat is sufficient enough to arrest him as a precaution and charge him against incitement.
Why Not to Condemn All Monks
Gnanasara's outburst, violence or fascism should not be a reason to condemn all Buddhist monks. He is in saffron robes, but he is not a proper Buddhist monk in my opinion. What is alarming however is he is flanked by several other 'Buddhist monks,' with or without knowing the gravity of what they do or utter. This is a matter to be untangled preferably within the Buddhist Sangha themselves. It is also apparent that Gnanasara is exploiting business enmities between different communities to promote his fascist cause and in this case at Mahiyangana.
It is not unusual for the clergy of different religions or denominations to get involved in politics, extremist movements or even fascism. However, this cannot be considered 'healthy for religion or for politics.' Particularly in Hungary during the rise of Fascism in 1930s, there were numerous Catholic priests who went behind Szalasi's movement. Ference Szalasi was the leader of the Arrow Cross Party which was responsible for the killing and mayhem of thousands of Jews. This is just an example.
This is also the case today of many Imams and other Islamic religious leaders supporting the Islamic State of Iraq and Syria (ISIS). However, there are many other Imam's and leaders condemning or distancing themselves from ISIS. Sri Lanka is fortunate to have moderate or 'Abangan' Islamic believers and the government or the public should be mindful of not to push the youngsters to the extremes like in some Western countries which could create a virtual hell as a result of these religious polarizations. That is one reason why lawful action should be taken forthwith against Gnanasara and his gang.
Cambodian Example
In the case of curtailing Buddhist monks going for politics or for extremist politics, there were prohibitions in the Cambodian constitution before 1975 forbidding Buddhist monks even in voting. I think it was influenced by the views of Prince Norodom Sihanouk of that time. However this position changed after the UN inspired new constitution in 1993 without any prohibition. Yet until 2006, the Buddhist Supreme Patriarchs (very much similar to our Sanga Nayakas) banned the Buddhist monks voting or even registering for voting, believing that the 'monks should not be biased.'
However, in recent times this has changed again. A good number of Buddhist monks are now involved in various social causes like human rights and peace. However, there are no organizations such as the BBS or the 969 Movement of Ashin Wirathu in Mynamar (Burma). This is despite the presence of numerous Cham Muslims or minority Vietnamese in Cambodia. Still the Cambodian Buddhist Supreme Patriarchs hold the moral authority to refrain their respective member monks getting involved in extremist politics or unacceptable ventures contrary to the Buddhist principles. This is part of the Sangha Vinaya (discipline) fairly maintained in Cambodia.
I am not at all advocating a constitutional prohibition of Buddhist monks or other priests getting involved in politics like in pre-1975 Cambodia. However, there should be some constraints within all religions or religious denominations of their clergy men or women getting involved in politics or extremist politics. The case of Gnanasara however is different. He is obviously a potential fascist, who can derail all the good intentions of reconciliation and peace in the country. He is apparently a law breaker and inciter who should be brought before the law.
A Postscript
After finishing the above short peace, I had the occasion to watch an interview of Khaled Abol Naga, the prominent Egyptian actor, producer and the film director over the ABC 24 TV (Australia) this afternoon. When he was asked what he thinks about the reasons for many young people going for the cause of ISIS, he said that "when you leave a small injustice unaddressed, the grievances become accumulated. That is what happened after the creation of Israel neglecting the Palestinians and others."
"The ISIS however is not the solution but the exacerbation of the problem," he emphasized. The reason he gave was very common to Buddhism, Christianity or Islam: "hatred begets hatred" (Wairayen Wairaya Nosan Sinde). This is why the rule of law should be administered, for Gnanasara or any other perpetrators, without any hatred or vengeance.