Sri Lanka has locked up this Muslim lawyer without charge for nearly five months

The prominent Sri Lankan Muslim lawyer, Hejaaz Hizbullah, is being described by human rights groups as the latest victim of Sri Lanka's draconian Prevention of Terrorism Act.

On April 14, Hizbullah, 40, got a call from the Ministry of Health saying they were worried he may have contracted COVID-19 and advised him to remain at home.

A day earlier he and others had written to the Sri Lankan president about his government's decision to ban Muslims from burying their dead, forcing them to cremate their remains instead – a violation of their right to freedom of religion, as protected by Sri Lanka's constitution and its international obligations.

Hejaaz Hizbullah was a lawyer at the Supreme Court and worked as a state counsel for the Attorney General's department. Beyond his legal work, he was involved...

Read More...

Hejaaz Detention: Fort Magistrate Orders CID To Submit All Statements Obtained In Investigations



Following submissions by Defence Counsel that the Criminal Investigations Department is selectively reporting facts to the Magistrate in order to malign Hejaaz Hizbullah, Fort Magistrate today ordered the Criminal Investigations Department to submit a report of all statements obtained by them from persons relating to the investigations of Hizbullah.
When the case was taken up today. Counsel for the Defence informed Court that the Criminal Investigations Department had obtained statements from all persons of the Save the Pearls Charity and the Teachers and Board of Management of the Al-Zuhriya Madarasa.

However, none of those statements had been produced to date.
They said that the statements would reveal that all the allegations made by the CID are a fabrication and were made in order to malign Hizbullah and...

Read More...

Hejaaz Hizbullah: Symptom and symbol

What made him more enigmatic was that unlike most others in his profession who shield their lives beneath a calm facade, he taught exceptionally well Apparently he called the Easter attackers "fools who died as fools." I can picture Hejaaz saying that   There's an image of Hejaaz Hizbullah I return to over and over again. It's an image of him holding a placard at a protest in 2018. The placard reads, "Asilachaara parliamenthuwak wenuwata seelachara parliamenthuwak" ("A cultured parliament in place of an uncultured parliament"). The reason why it resonates with me is that, even in the ecstatic way he holds it, he is quite unlike the Hejaaz Hizbullah I once knew. But then I realise that the Hejaaz I once knew couldn't have been the real guy. 
I first encountered the man in 2013 at my law school. He didn't...

Read More...

Rathana At It Again; ACJU Is The Punching Bag For Everyone

By

Mass L. Usuf

–

Mass Usuf Let this column begin with a Disclaimer. It is only an analysis and the writer is not holding a brief to defend or protect the All Ceylon Jamiyathul Ulema (

Read More...

Democracy Threatened: Impunity, Political Patronage & Rollback Of Devolution

By

S. Ratnajeevan H. Hoole

– R. Sasilan: Assistant Commissioner of Elections Today we are opening new living quarters for our Election Commission's man-in-charge in Batticaloa. I am so glad because R. Sasilan is a man I am proud of. He stands up for what is right without fear or favor. When a minister distributed gifts in elections some years ago, he confiscated a gift pack and filed a complaint with the police. The police, as often happens, disappeared the evidence. Sasilan sent a report to the Commission and that too disappeared....

Read More...

Coronavirus funerals: Sri Lanka's Muslims decry forced cremation

  Image copyrightEPA Image captionSri Lankan Muslim women wait for a Covid-19 test. Some in the community are fighting cremation rules Sri Lankan authorities are insisting on cremation for coronavirus victims - a practice forbidden by Islam. The nation's minority Muslim community says they are using the pandemic to discriminate, writes BBC Sinhala's Saroj Pathirana. On 4 May, Fathima Rinoza, a 44-year-old mother of three from Sri Lanka's minority Muslim population, was admitted to hospital with a suspected case of Covid-19. Fathima, who lived in the Sri Lankan capital, Colombo, had been suffering from respiratory problems and the authorities feared she had caught the virus. On the day she was admitted to hospital, the family was "set upon" by the authorities, her husband Mohamed Shafeek said. "The police and military along with...

Read More...

ජිනීවා මානව හිමිකම් කවුන්සිලයේදී රටවල් 5කින් ලංකාවට චෝදනා

පාස්කු ප්‍රහාර සම්බන්ධයෙන් සැකපිට අත්අඩංගුවට ගෙන සිටින නීතිඥ හිජාස් හිස්බුල්ලා රඳවා තබාගැනීම, විශේෂ බළකායේ සැරයන් සුනිල් රත්නායකට ජනාධිපති සමාව ලබාදීම ඇතුළු කරුණු ගණනාවක් පදනම් කරගනිමින් එක්සත් රාජධානිය ඇතුළු රටවල් 5ක කණ්ඩායමක් එක්සත් ජාතීන්ගේ මානව හිමිකම් කවුන්සිලයේදී ශ්‍රී ලංකාවට චෝදනා එල්ල කර ඇතැයි ජිනීවා තානාපති...

Read More...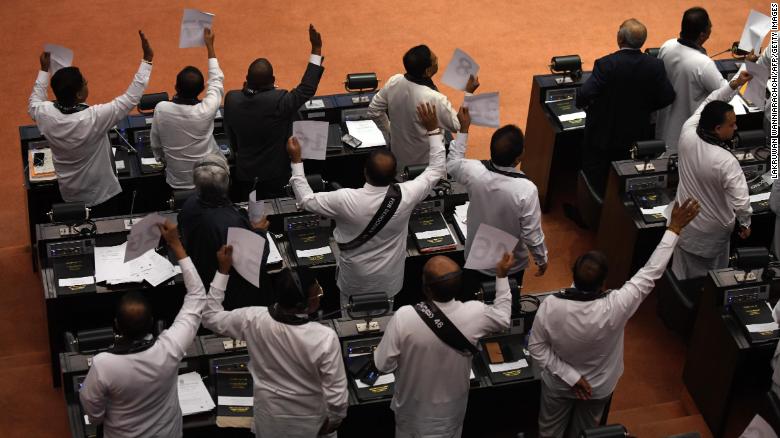 Colombo, Sri Lanka (CNN)Sri Lankan lawmakers have passed a no-confidence motion against the country's new Prime Minister, Mahinda Rajapaksa, declaring his appointment "void and invalid" amid raucous scenes in the country's Parliament.
Supporters of Rajapaksa refused to recognize the vote as legitimate, plunging the country 
deeper into crisis
, as fears grow that the political dispute could spill into wider instability.
The move follows the shock decision last month by President Maithripala Sirisena to sack Ranil Wickremesinghe as prime minister, and replace him with controversial former strongman President Mahinda Rajapaksa. The announcement triggered protests and violence leaving one person dead.
Wickremesinghe denounced Sirisena's attempt to remove him from office and refused to leave the official prime minister's residence, claiming the president does not have the power to take such action.
In a move that showed that he was potentially softening his hard stance, Sirisena invited his ousted Prime Minister, Ranil Wickremesinghe, leaders of his party and those associated for talks Wednesday evening.
Spokesman Mahinda Samarasinghe declined to comment on the meeting, but told CNN: "The President will act constitutionally and within the framework of the law of the country."
Passed by voice, not by name
The passing of the no-confidence motion comes as a major blow to Sirisena, demonstrating that his appointment of Rajapaksa does not have the majority backing of the 225 seat Parliament.
Contrary to the usual practice, notice of the motion was given Wednesday morning and taken up for discussion immediately after.
However, such was the commotion inside the House Wednesday, Speaker Karu Jayasuriya was prevented from taking the vote by name, as is standard, and instead forced to take a vote by voice.
The resolution, which was passed by a majority, was moved by left wing Janatha Vimukthi Peramuna (JVP) party leader Anura Kumara Dissanayaka and law maker Vijitha Herath.
The United National Party of ousted Prime Minister Wickremesinghe, the Tamil National Alliance and smaller Muslim parties all supported the no-confidence motion.
Three newly sworn cabinet ministers and a state minister also crossed over to the opposition benches in support. Both Rajapaksa, as well as his ousted predecessor Wickremesinghe were present during the vote.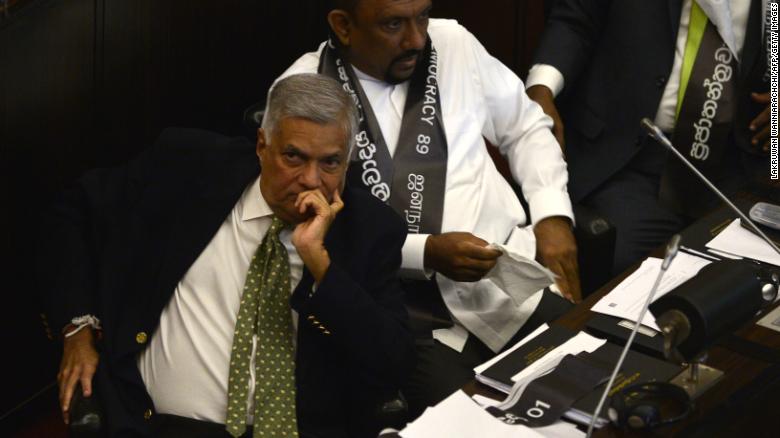 Instability in Colombo
Violence erupted in the capital at the end of October when crowds loyal to the President attempted to prevent the recently deposed petroleum minister Arjuna Ranatunga from entering a government building in Colombo.
As crowds surged around Ranatunga, a former Sri Lankan cricket captain, the official's bodyguards opened fire, killing one person and injuring three others.
Ranatunga subsequently claimed that his bodyguards opened fire because the crowd was "trying to kill" him.
One bodyguard was nevertheless taken into custody and an investigation is underway, police spokesperson Ruwan Gunasekera confirmed.
https://edition.cnn.com/2018/11/14/asia/sri-lanka-no-confidence-intl/index.html