Voters List Details For 2019 Government Schools Grade One Admission

Read More...

This could be your last Ramadaan

REMEMBER the beginning of Ramadan last year: the festive supermarkets with their jampacked aisles, the makeshift roadside stalls outside restaurants selling crisp sambusas and subiya, the sounds of Adhan emanating from Masajid... My house overlooked a Maghsalat-Al-Amwaat Al-Khairiyyah (a charitable organization which prepares bodies for burial in the Islamic manner), and as I walked home from the neighborhood supermarket laden with packages of food and other essentials in preparation of the next day's fast, I caught sight of a family accompanying a bier in a hearse. The women huddled together, sobbing quietly, while the men stood at a distance in somber silence. It struck me: While I was going home to the comfort of my home and the company of my family, this person was being dispatched alone, to answer the stern questioning of the grave....

Read More...

Facebook staff to learn Sinhala insults after Sri Lanka riots

Three months after Sri Lanka was rocked by deadly anti-Muslim riots fuelled by online vitriol, Facebook is training its staff to identify inflammatory content in the country's local languages. The social network has been seeking penance in Sri Lanka after authorities blocked Facebook in March as incendiary posts by Buddhist hardliners fanned religious violence that left three people dead and reduced hundreds of mosques, homes and businesses to ashes. Until the week-long ban, appeals to Facebook to act against the contagion of hate speech had been met with deafening silence, at a time when the California-based tech giant was reeling from unprecedented global scrutiny over fake news and user privacy. "We did make mistakes and we were slow," Facebook spokeswoman Amrit Ahuja told AFP in Colombo. The dearth of staff fluent in Sinhala...

Read More...

Time-tested bond of Sinhala-Muslim Friendship

The Muslims of Sri Lanka, since ancient times have been in peaceful coexistence with the other communities of the Island and has proved to be an integral and inseparable component of the Sri Lankan society.



According to ancient chronicles, traders from countries like Rome, Greece, Persia( Iran ), China, India etc visited Sri Lanka on trade missions. Arab merchants having maintained friendly relationship with natives, had ventured into the interior and coastal areas of Ceylon for trading, even before the advent of Islam. Arabs were only interested in trading and commerce in Sri Lanka in an honest and a just manner The present day Muslims of Sri Lanka, could therefore be considered the descendants of many of these Arabs, Persians, Indians, and Malays etc.  

During...

Read More...

'වඳභාවය ඇති කළ හැකි පෙත්තක් මෙතෙක් සොයාගෙන නැහැ'


(ශාන්ත රත්නායක)

බටහිර වෛද්‍ය ක්‍රමය අනුව වඳභාවය ඇති කළ හැකි පෙත්තක් සොයා ගෙන නැති බව ප්‍රජනන වෛද්‍ය විද්‍යාව පිළිබඳ මහාචාර්ය චන්දිකා විජේරත්න මහත්මිය අද (15) ශ්‍රී ලංකා වෛද්‍ය සංගමයේ මාධ්‍ය හමුවක දී පැවසීය.

ආහාර සමඟ වඳ පෙති මිශ්‍ර කිරීමෙන් වඳභාවය ඇති කළ හැකි බවට අනියත බියක් සමාජ වෙබ් අඩවිවල ඇතිව තිබෙන හෙයින් ඒ ගැන...

Read More...

ආණමඩුව හෝටලයට ගිනි තැබු 7 දෙනා රිමාන්ඩ්

ජුඩ් සමන්ත

ආණමඩුව නගරයේ පිහිටි  මදීනා හෝටලයට පෙට්‍රල් බෝම්බ තබා ගිනි තැබීමේ සිද්ධියට සම්බන්ධ සැකකරුවන් 7 දෙනා මෙම මස 19 වැනි දා දක්වා රිමාන්ඩ් කිරිමට ආණමඩුව වැඩබලන මහේස්ත්‍රාත් සුනිල් ජයවර්ධන මහතා අද (13) නියෝග කළේය.

මෙලෙස රිමාන්ඩ් ගත කරන ලද්දේ ආණමඩුව සහ ඒ අවට පදිංචිව සිටි තරුණයින් 7 දෙනෙක් වේ. ඔවුන් වයස අවුරුදු 18 - 22 වියේ...

Read More...

මහසෝන් බලකා කාර්යාලයෙන් ප්‍රචණ්ඩත්වයේ වැලගිය මුලගිය තැන් හමුවෙයි

මහනුවර ප‍්‍රදේශයේ ඉකුත් මාර්තු 4 වැනි දා සිට  මේ දක්වා සිදු වු සියලූ ප‍්‍රචන්ඩ  කි‍්‍රයාවන්ට මුලිකව කි‍්‍රයා කළ  බව කියන සිද්ධිය සම්බන්ධයෙන් අත්අඩංගුවට ගෙන රැඳවුම් නියෝග මත සිටින මහසොන් බළකායේ  ප‍්‍රධානී බව කියන විදානපතිරණයේ අමිත් ජීවන් වීරසිංහ නැමැති සැකකරුට අයත් මහනුවර නත්තරංපොත කුණ්ඩසාලේ පිහිටි කාර්යාලය අද (13) සෝදිසියට...

Read More...

UN condemns anti-Muslim attacks in Sri Lanka

2018-03-12 11:10:35 4 2109 The UN's political chief on Sunday condemned anti-Muslim violence that has targeted mosques and businesses in Sri Lanka as he wrapped up a three-day visit to Sri Lanka. Under-Secretary-General for Political Affairs Jeffrey Feltman urged the government to bring the perpetrators of the violence and hate speech to justice. Feltman, who met with Muslim leaders to show solidarity during his visit, "condemned the breakdown in law and order and the attacks against Muslims and their property," a UN statement said. Sri Lanka has been rocked by a week of violent riots by Sinhalese mobs who have attacked 11 mosques and at least 200 Muslim-owned businesses, prompting the government to declare a state of emergency. Three people have been killed and 20 wounded in the anti-Muslim attacks. On Sunday a Muslim-owned...

Read More...
Violence in Digana: Kiriella says Buddhists must apologise to Muslims
2018-03-06 17:41:19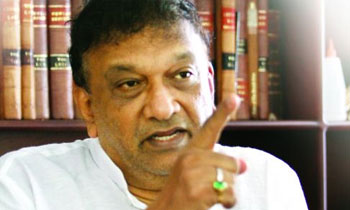 House Leader Lakshman Kiriella today said that a resolution should be brought in parliament and Buddhists should apologise to the Muslims in connection with the violence in Digana and Teldeniya.
He told parliament that the state intelligence services had collapsed resulting in the violence in Digana and Teldeniya.
"This situation was created by some outsiders. Police were aware about the people who came there from other areas. Even we got to know about them. But the police higher-ups were kept in the dark about the impending violence," the minister said.
He said Buddhist and Muslim Religious leaders in the area had agreed to settle the matter amicably while businessmen of both communities had agreed to pay compensation to the victimised families but some people who had arrived from other areas had provoked the people and this led to a communal clash.
He said compensation would be paid to those affected and for damaged property. (Ajith Siriwardana and Yohan Perera)
http://www.dailymirror.lk/article/Violence-in-Digana-Kiriella-says-Buddhists-must-apologise-to-Muslims-146837.html