Voters List Details For 2019 Government Schools Grade One Admission

Read More...

This could be your last Ramadaan

REMEMBER the beginning of Ramadan last year: the festive supermarkets with their jampacked aisles, the makeshift roadside stalls outside restaurants selling crisp sambusas and subiya, the sounds of Adhan emanating from Masajid... My house overlooked a Maghsalat-Al-Amwaat Al-Khairiyyah (a charitable organization which prepares bodies for burial in the Islamic manner), and as I walked home from the neighborhood supermarket laden with packages of food and other essentials in preparation of the next day's fast, I caught sight of a family accompanying a bier in a hearse. The women huddled together, sobbing quietly, while the men stood at a distance in somber silence. It struck me: While I was going home to the comfort of my home and the company of my family, this person was being dispatched alone, to answer the stern questioning of the grave....

Read More...

Facebook staff to learn Sinhala insults after Sri Lanka riots

Three months after Sri Lanka was rocked by deadly anti-Muslim riots fuelled by online vitriol, Facebook is training its staff to identify inflammatory content in the country's local languages. The social network has been seeking penance in Sri Lanka after authorities blocked Facebook in March as incendiary posts by Buddhist hardliners fanned religious violence that left three people dead and reduced hundreds of mosques, homes and businesses to ashes. Until the week-long ban, appeals to Facebook to act against the contagion of hate speech had been met with deafening silence, at a time when the California-based tech giant was reeling from unprecedented global scrutiny over fake news and user privacy. "We did make mistakes and we were slow," Facebook spokeswoman Amrit Ahuja told AFP in Colombo. The dearth of staff fluent in Sinhala...

Read More...

Time-tested bond of Sinhala-Muslim Friendship

The Muslims of Sri Lanka, since ancient times have been in peaceful coexistence with the other communities of the Island and has proved to be an integral and inseparable component of the Sri Lankan society.



According to ancient chronicles, traders from countries like Rome, Greece, Persia( Iran ), China, India etc visited Sri Lanka on trade missions. Arab merchants having maintained friendly relationship with natives, had ventured into the interior and coastal areas of Ceylon for trading, even before the advent of Islam. Arabs were only interested in trading and commerce in Sri Lanka in an honest and a just manner The present day Muslims of Sri Lanka, could therefore be considered the descendants of many of these Arabs, Persians, Indians, and Malays etc.  

During...

Read More...

'වඳභාවය ඇති කළ හැකි පෙත්තක් මෙතෙක් සොයාගෙන නැහැ'


(ශාන්ත රත්නායක)

බටහිර වෛද්‍ය ක්‍රමය අනුව වඳභාවය ඇති කළ හැකි පෙත්තක් සොයා ගෙන නැති බව ප්‍රජනන වෛද්‍ය විද්‍යාව පිළිබඳ මහාචාර්ය චන්දිකා විජේරත්න මහත්මිය අද (15) ශ්‍රී ලංකා වෛද්‍ය සංගමයේ මාධ්‍ය හමුවක දී පැවසීය.

ආහාර සමඟ වඳ පෙති මිශ්‍ර කිරීමෙන් වඳභාවය ඇති කළ හැකි බවට අනියත බියක් සමාජ වෙබ් අඩවිවල ඇතිව තිබෙන හෙයින් ඒ ගැන...

Read More...

ආණමඩුව හෝටලයට ගිනි තැබු 7 දෙනා රිමාන්ඩ්

ජුඩ් සමන්ත

ආණමඩුව නගරයේ පිහිටි  මදීනා හෝටලයට පෙට්‍රල් බෝම්බ තබා ගිනි තැබීමේ සිද්ධියට සම්බන්ධ සැකකරුවන් 7 දෙනා මෙම මස 19 වැනි දා දක්වා රිමාන්ඩ් කිරිමට ආණමඩුව වැඩබලන මහේස්ත්‍රාත් සුනිල් ජයවර්ධන මහතා අද (13) නියෝග කළේය.

මෙලෙස රිමාන්ඩ් ගත කරන ලද්දේ ආණමඩුව සහ ඒ අවට පදිංචිව සිටි තරුණයින් 7 දෙනෙක් වේ. ඔවුන් වයස අවුරුදු 18 - 22 වියේ...

Read More...

මහසෝන් බලකා කාර්යාලයෙන් ප්‍රචණ්ඩත්වයේ වැලගිය මුලගිය තැන් හමුවෙයි

මහනුවර ප‍්‍රදේශයේ ඉකුත් මාර්තු 4 වැනි දා සිට  මේ දක්වා සිදු වු සියලූ ප‍්‍රචන්ඩ  කි‍්‍රයාවන්ට මුලිකව කි‍්‍රයා කළ  බව කියන සිද්ධිය සම්බන්ධයෙන් අත්අඩංගුවට ගෙන රැඳවුම් නියෝග මත සිටින මහසොන් බළකායේ  ප‍්‍රධානී බව කියන විදානපතිරණයේ අමිත් ජීවන් වීරසිංහ නැමැති සැකකරුට අයත් මහනුවර නත්තරංපොත කුණ්ඩසාලේ පිහිටි කාර්යාලය අද (13) සෝදිසියට...

Read More...

UN condemns anti-Muslim attacks in Sri Lanka

2018-03-12 11:10:35 4 2109 The UN's political chief on Sunday condemned anti-Muslim violence that has targeted mosques and businesses in Sri Lanka as he wrapped up a three-day visit to Sri Lanka. Under-Secretary-General for Political Affairs Jeffrey Feltman urged the government to bring the perpetrators of the violence and hate speech to justice. Feltman, who met with Muslim leaders to show solidarity during his visit, "condemned the breakdown in law and order and the attacks against Muslims and their property," a UN statement said. Sri Lanka has been rocked by a week of violent riots by Sinhalese mobs who have attacked 11 mosques and at least 200 Muslim-owned businesses, prompting the government to declare a state of emergency. Three people have been killed and 20 wounded in the anti-Muslim attacks. On Sunday a Muslim-owned...

Read More...
'Radicalisation' among Sri Lankan Muslims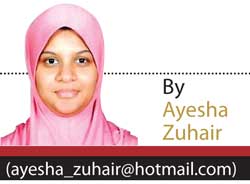 A number of recent opinion pieces penned by some well-known writers have drawn attention to the growing 'radicalisation' among the Muslims of Sri Lanka. Among the key concerns raised are that Sri Lankan Muslims are becoming 'exclusivist' and 'self-alienating' by following a strict interpretation of Islam, manifested in particular by the growing number of Muslim women who have adopted all-encompassing 'alien, Arab attire'.

By conflating the veil with radical Islam, the writers, perhaps inadvertently, are feeding into Islamophobia, (an unfounded fear of Islam), and fanning the flames of social discord.

Most Muslim women choose to veil themselves because they view it as a religious obligation. It has no nexus whatsoever to the 'radicalisation' that is allegedly unfurling in the community. Veil-clad women do not represent nor do they promote a racist ideology. Furthermore, attacking or vilifying the veil will not make it go away; on the contrary a tolerant, plural and inclusive Sri Lanka has to accommodate all Muslims in whatever dress-code they choose to adopt.  The freedom to practice one's faith is a basic human right that must be safeguarded. No one should attempt to interfere with someone else's right to practice his or her professed religion in the manner he or she sees fit, so long as it does not infringe upon the rights of others.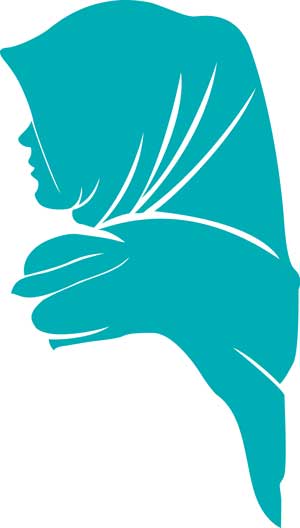 That more and more Muslim women are opting to cover up – be it in the form of the hijab, the abaya or the niqab – does not warrant alarmist discourses. What should alarm all Sri Lankans is the daily record of rapes, sexual harassment of women and the growing insecurity for women, particularly those in the North. According to Women for Rights, every 90 minutes a woman is raped in Sri Lanka and an estimated 95% of women using public transportation are at risk of being sexually harassed.

What should be of concern to all Sri Lankans is the free accessibility to pornographic material (flowing in mainly from the West); in particular our children's exposure to such destructive material which teaches them all the wrong things about sex. Even the screening of the sick-filth movie 'Fifty Shades of Grey', which glorifies the sexual exploitation of women, in Sri Lankan theatres did not attract the condemnation and opposition that it ought to have.

In view of much bigger and more pressing social problems, the veil is something that should neither worry those outside the Muslim community nor those within community who do not consider it an Islamic requirement. The veil – or particular types of it – is simply a piece of fabric; it does not in any way pose a threat to peace, stability and multi-culturalism.

And what does multi-culturalism really mean? It means respect for diversity, especially respect for religious and racial differences, not cultural assimilation. This includes respecting someone else's interpretation of his or her religious obligations.

Moreover, identity is not something that is fixed. It is fluid and changes over time. The position that the items of clothing in focus, the niqab in particular, are imports from the Middle-East and do not form part of the traditional Sri Lankan Muslim woman's attire begs the questions: what is traditional Sri Lankan Muslim attire anyway, and where did it originate from? Is it the saree? Is it the shalwar kameez? Are they not imports from India and Pakistan? And what about jeans and shorts? Should we, in similar vein, also be worried about women wearing Western attire on the premise that they are imports from the West and have nothing to do with traditional Sri Lankan attire? Taken to extreme lengths, does it then also mean that Sri Lankan Muslims should stop giving their children names of Arab origin?

The crucial point here is that a woman's body is her business, and if she chooses to cover it up completely, it should not become a problem for anyone else. Attire is a personal judgement call; some women prefer to be seen in public with less clothing while others prefer a lot more. Ultimately, it is the woman who should make that decision.

With time, practices evolve. If women choose to shed the veil, then that too is their decision. But they must have the right to wear it if they want to. Let us not be so fixated on the Islamic dress-code and try to link it with radicalisation or extreme political violence without any concrete empirical evidence to establish such a link. There is no need to grossly over-react to a threat that is not there.

A study released last week by the International Centre for Ethnic Studies (ICES) in Colombo affirms that there is no real evidence to suggest that a jihadist movement exists in the East. The ICES study entitled 'Fracturing Community: Intra-group relations among the Muslims of Sri Lanka' authored by Mohamed Faslan and Nadine Vanniasinkam also points out, "the minority Muslim community is largely considered (by the majority communities) as a religiously homogeneous group when, in fact, they are splintered into various denominations which espouse different interpretations of Islam, values and practices. This ignorance of the plurality within the Muslim community and its internal politics could be a contributing factor to much of the prejudices held by individuals against the community."
The paper further notes that "the 'performance' of difference among Muslim groups, visible in the form of jubbas, hijabs, niqabs, beards and the increasing number of mosques, has created an illusion of an increase in the Muslim population, adding to the fear and suspicion of the majority towards the motives of the Muslim community and its 'repressive' culture. These individual prejudices have in turn been manipulated by extremist nationalist groups like the Bodu Bala Sena (BBS) to incite hatred towards and violence against the Muslim community."

If anyone intolerantly incites hatred, makes inflammatory remarks and thereby promotes communal violence (in the manner the BBS did triggering the Aluthgama riots in June 2014), then that is certainly something to be concerned about. Such persons should be dealt with under the laws of the land. 
The words of Palestinian-American peace activist Linda Sarsour certainly rings true for Sri Lankan Muslims today: "We're working too hard to be accepted instead of working hard to be respected".
Islamophobia has been on the rise for some time now; let us refrain from unwittingly contributing to its sustenance.
(Comments can be emailed to: This e-mail address is being protected from spambots. You need JavaScript enabled to view it )
http://www.dailymirror.lk/107264/-Radicalisation-among-Sri-Lankan-Muslims